Posted on
February 6, 2023
in
Valentine's Day in San Marco, Venice, the most romantic city in the world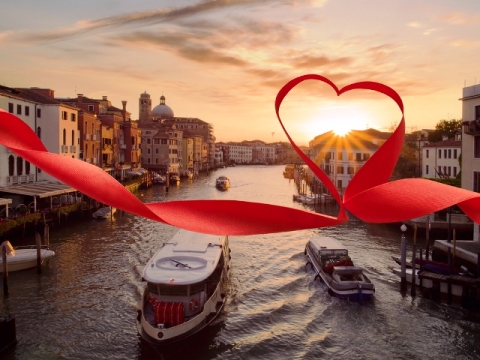 Spending Valentine's Day in Venice is a daydream, one of those things so romantic that you wonder if it's all true or if you're dreaming.
We were lucky enough to have this experience a few days ago, in a Venice open only to the Venetians, a Venice in difficulty due to the pandemic but with a great desire to recover and return to what it was as soon as possible.
I won't deny that I was a bit impressed to be in Venice and hear almost only our Veneto dialect spoken.
Usually in Venice you hear English, American English, French, Spanish, Chinese…and yes, sometimes even a little Italian.
Venetian dialect never, if not spoken by the innkeepers or gondoliers among themselves.
It was nice to experience the Venice of the Venetians for a day but I hope that the city will soon hear all the languages of the world speak again.
Thus, in the coming years, you too will be able to spend a magical Valentine's Day in Venice like ours was.
I therefore want to give you some advice since, if as I hope everything returns to normal, it is necessary to take time and book well in advance.
In short, Venice is the most romantic city in the world, who wouldn't want to spend Valentine's Day there?
I'm a romantic and I just can't imagine a better location where to spend the Valentine's weekend with your sweet half.
I think that in Europe, in terms of romanticism, perhaps only Paris compares.
Piazza San Marco or the Eiffel Tower? Gondola ride or Seine cruise? I vote Venice a thousand times, and not because I'm a nationalist but because, in my opinion, Venice has that something extra.
It is more romantic, more scenographic, more particular. In short…plus everything.
Tuesday 14 February we are waiting for you with the person you love for a romantic evening
Happiness can be seen in the little things
We have a menu dedicated to lovers or you can dine with our "a la carte" menu in the restaurant or bakery
Valentine's Day in Venice
Valentine's Day in Venice manages to make everyone agree.
Romantic people can enjoy the magical Venetian atmosphere while the category "I don't give a damn about Valentine's Day" can still enjoy a dream city.
Guess who is the romantic component of our couple and who is part of the second category?
However even Luca, who is by no means a romantic, thoroughly enjoyed our Valentine's Day in Venice.
We walked hand in hand in the calli, took selfies on the bridges, admired new panoramas or seen them a thousand times and finally we treated ourselves to the most romantic experience of all, the gondola ride.